Shady Characters: The Secret Life of Punctuation, Symbols & Other Typographical Marks by Keith Houston

My rating: 3 of 5 stars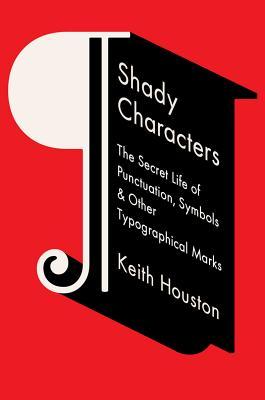 Sure, non-fiction is a way of getting a lot of 'facts' down on a page – some of those facts might even be interesting. But you can do that in fiction too; oftentimes much better. Think of how much historical context is written into Trollope's Vanity Fair; how much social history of the early 19th Century, all effortlessly woven in to a cracking good yarn. Without the constraints of a good story, non-fiction authors often give in to the temptation to dump an enormous amount of information in an unstructured, unsorted way that leaves the reader overwhelmed, confused or just plain bored. This is why I don't read a lot of non-fiction.

For Keith Houston's Shady Characters, I made an exception. This was partially because the subject matter – the origin stories of punctuation symbols, weird and common – was sufficiently quirky and yes, so incredibly nerdy, that it seemed bound to read a little differently, even for non-fiction. It was also because the book fell into my hands at a moment when I had nothing else to read.

In all, the book was not a complete disappointment. I learned some wonderfully useless things about punctuation marks I never knew existed, like the interrobang – a short-lived 20th Century hybrid of the question mark and the exclamation point, which looks like this: ‽

More usefully, the twisted road to modern typography takes you past some genuinely interesting historical waypoints. I was particularly fascinated by the detailed description of the typesetting used by Johannes Gutenberg for his 42 line bible, which was, after all, the 'Star Wars: A New Hope' of books. It blows my mind to think that with all the algorithmic typesetting we have today, the line spacing used to justify the first ever printed book is so perfect that it remains, to this day, the best typeset book in the history of print.

Another plus point (see what I did there?) was Houston's clever use of the punctuation, fonts and even writing styles he describes, in that respective chapter to illustrate the examples he's discussing.

All that said, Shady Characters succumbs to the original sin of non-fiction books, allowing its author to indulge in detours and asides that made certain paragraphs seem like we would never get to the next ¶ (which is called a 'pilcrow', in case you never knew).

Even more irksome is the New York Times-reading, smug intellectualism of the author. Just as the nouveau-riche indulge in conspicuous displays of wealth in a way 'old money' never would, American intellectuals like Houston always try too hard to be literate and clever, made desperate by their transatlantic cultural inferiority complex. In doing so, they sacrifice something of the message in pursuit of their ostentatious displays of learning. Bad writing is when, while reading, you can hear the sound of the author typing. In reading this book, there were moments when the sound of Houston's ego echoed with every keystroke.

With fiction, it is the story that acts to curb the author's ego, because he or she is bound by the plot and by the fictional characters, who – once defined – begin to tell their own stories. In this book, Houston had no characters to whom he had to stay true (at least not in the figurative sense).
I ask you, is it so hard to weave knowledge into a true yarn‽



View all my reviews